SEO
June 7, 2021
What Are Google Web Stories & How To Use Them?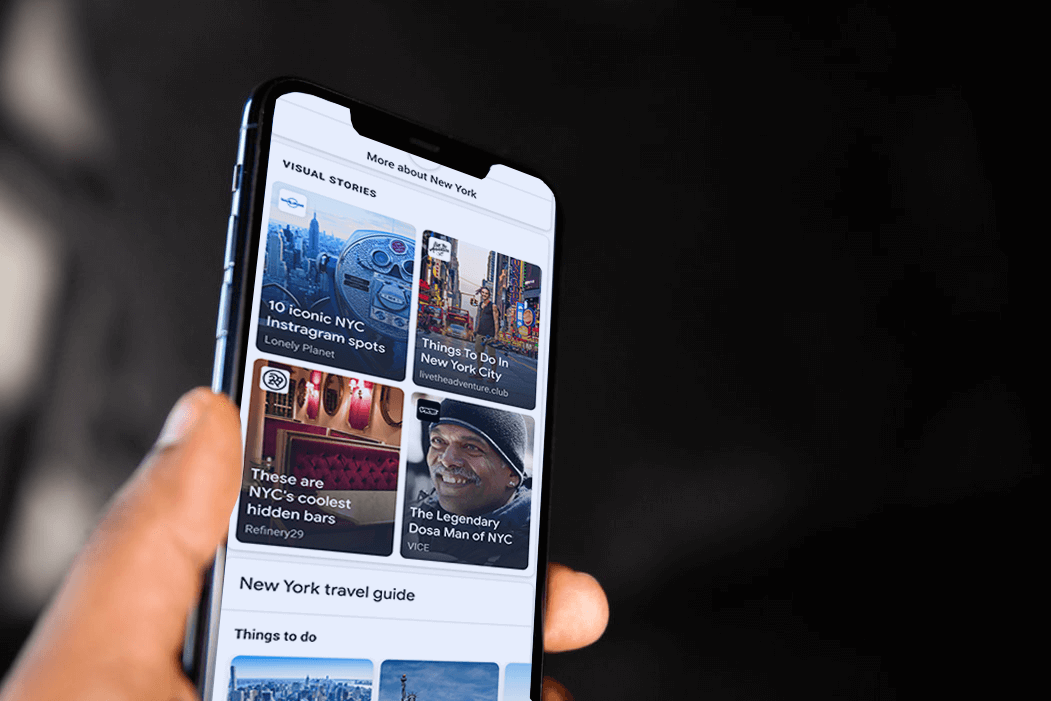 It comes as no surprise that Google has released their own 'Web Stories' which have their own carousel in Google Discover, and give publishers the opportunity to position their content for sought-after organic search traffic.
What are Google Web Stories?
Powered by AMP technology, Google Web Stories are owned by Google and designed to be an immersive full-screen experience that users will be able to host on their websites. Unlike the way in which Facebook and Instagram use the Stories concept, with Google Web Stories you can include calls to action, links and Google AdWords. Creators and users of all sizes can harness what Google Web Stories has to offer.
Where do Google Web Stories appear?
Google Web Stories are found all across the web, including in places such as your website, in search results, in Google Discover, on multiple devices and in your online publications.
How to use Google Web Stories
Getting started is easy – just click 'Add New' in the Web Stories plugin menu or 'Create New Story' in the dashboard (top left of your screen).
You'll be able to add text and shapes, as well as images from Unsplash and videos from coverr. Choose from several Web Story templates and go to 'Document' to access your publishing tools for getting your Story out there to the world.
Don't forget to use your designated 200 characters to inform your reader of what your Story is all about and to spark their curiosity!
The benefits of Google Web Stories
Now that we've touched on what they are and how they work, let's get down to what really matters: how Google Web Stories can benefit your business.
You own the content: Stories can be hosted on the publisher's own website, so the copyright belongs to you, not Google – it's worth remembering that there are some rules in place.
Supports Google Analytics tracking: Web Stories are like web pages and therefore can be linked to analytics platforms including Google Analytics. This means you'll have the ability to track and analyze useful information than is possible with social media story formats like Snapchat, Instagram and Facebook. This knowledge is incredibly useful for developing a successful marketing strategy.
Interactive and fun: incorporate elements like polls and quizzes which have proved successful in helping Stories succeed on other platforms.
Creative freedom: let your creative flair go wild as there are no design restrictions – you just have to adhere to the basic general requirements. This leaves you open to experiment with a diversity of colours, animations and imagery that matches your brand's storytelling.
Live Stories: thanks to the 'Live Story' aspect of Google Web Stories, you can alert users in real-time that you've added new pages, a great feature for breaking news to them.
Would you like to harness the potential of Google Web Stories for business but you're not sure where to start? Get in touch with our expert team here at Caliston, who can help you get the best out of this tool, and unlock your goals.